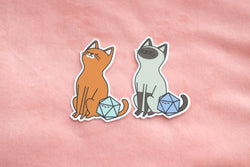 Dbl Feature
Abyssinian and Siamese D20 Dice Buddy Sticker
Do you have an Abyssinian or Siamese cat that likes to snuggle up with your dice? If so then this sticker is perfect to add to your collection!
🐱 weatherproof, 3 inch sticker
🐱 able to withstand exposure to wind, rain and sunlight
🐱 printed on premium vinyl with a permanent adhesive
🐱 coated with a protective laminate
🐱 super durable and resistant to fading, scratching, tearing, and water
🐱 can even be safely run through a dishwasher.
🐱 colors may vary slightly due to screen.