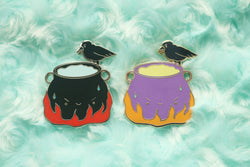 Dbl Feature
Cauldron Crow Hard Enamel Pin
Your crow companion flies down and perches above theboiling concoction. He screeches, "double, double toil and trouble; fire burn, and cauldron bubble."

🖤 approx. 1.75 inches tall
🖤 2 posts with rubber clasps, fixed to a backer card
🖤 Colors may vary slightly due to screen.
🖤 B grade pins are wearable, but they have minor imperfections like scratches or dents in the enamel, dust or glitter particles in the enamel, plating discoloration, uneven enamel fill, etc. Please message me if you have any questions!