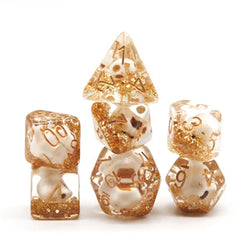 Foam Brain Games
Skull and Gold Glitter Dice Set
If you're a little bit of a murder hobo, bone collector, necromancer, or pirate-type then these skull and gold glitter dice will speak to you on a personal level.
💀 Color: Transparent
💀 Numbers: Gold
💀 Inclusions: Skull
💀 Shimmer: Gold Glitter
Please note that these dice are not handmade, but are manufactured by Foam Brain Games. Due to the nature of dice making, the look of each dice will be unique. IE: Apples will be suspended randomly throughout each piece.
Perfect for Role Playing Games like Dungeons and Dragons (D&D) , Shadowrun, Pathfinder, Warhammer, fantasy, sci-fi, or party games. Contains: 7 polyhedral dice - D4, D6, D8, D10, D%, D12, D20 dice Material: Resin